Concept Art
The projects below focus primarily on ideation, visual presentation of pre-production concepts, and 2D visual guides for production. Just because the ideas seem strange doesn't mean there isn't merit in exploring them and time spent exploring is never wasted.
Red Sun
Bo Character in 2D and 3D Created for Animation Team
Environment to animals, everything in The Calm Before needed to be examined through a very stylized lens. The world had vivid colours and simplified shapes the animals were black silhouettes with vivid accents. The primary goals of this collection was to establish a style and offer guidance to the 3D modelers to start production of assets for the game.
The Animals of the Calm Before
The animals were presented as being primarily black shapes reminiscent of shadows in the forest. This put a heavy focus on the colorful accents to make them readable at a distance and show case the nuanced movements in the animations. The first step was to look at each species as they appeared in nature and digest what feelings we wanted each to invoke when encountered in the game. The pheasant for example was a relatively low risk, easy source of food for the player that couldn't do much more than attempt to run away when approached so the focus for its design was on a plump body and short, stubby legs.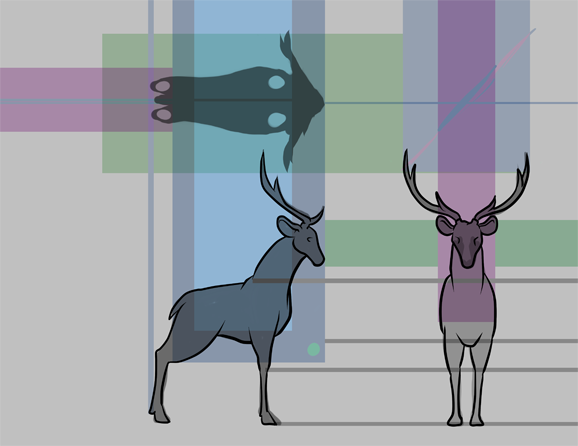 Deer process from initial sketches to orthographics to hand off to 3D art team.